THE COMMISSION ON VOLCANIC CAVES
LINKS
Updated December 9, 2022
International Union of Speleology (UIS)
VULCANOSPELEOLOGY
The Virtual Lava Tube by Dave Bunnel

Lava Tubes and Lava Tube Caves (USGS)

Lava Tubes (in Wikipedia)

World's Longest Lava Tubes by Bob Gulden

Vulcanospeleology in Saudi Arabia by John Pint


BOOKS, REPORTS, ARTICLES AND POSTERS ON LAVA CAVES

2012 - Fourth Argentine Congress of Speleology and First Latin American Congress of Speleology www.fade.org.ar
2018 - 4th International Anchialine Ecosystems Symposium Lanzarote, Canary Islands www.4isae.es
Guide to the anchialine ecosystems of Jameos del Agua and Túnel de la Atlántida
Guía interpretativa de los ecosistemas anquialinos de Los Jameos del Agua y Túnel de la Atlántida
UNDERGROUND IN ARABIA by John Pint. 174 pages, 32 illustrations. Selwa Press, 2012. Available from Amazon in print, Kindle and Nook formats. Book Review here.
OCCURRENCE AND ABSENCE OF LAVA TUBE CAVES -- WITH SOME OTHER VOLCANIC CAVITIES;
A CONSIDERATION OF HUMAN HABITATION SITES ON MARS
W. Halliday, G. Favre, A. Stefansson, P. Whitfield and N. Banks
(A poster displayed at the 2012 Lunar and Planetary Research Conference. PDF file, 2.8 megabytes)
Rheogenic Caves and Cavernous Structures of Kalaupapa Peninsula, Molokai Island, Hawaii: A Mars Analog Revisited by William R. Halliday, Chris H. Okubo, Stephan Kempe, Michael and Sherry Garman, and J. Judson Wynne. Word Document (41.5 kb); Powerpoint presentation (14.3 megabytes).

Geology of Selected Lava Tubes in the Bend Area, Oregon, by Ronald Greeley, 1971. Oregon Department of Geology and Mineral Industries Bulletin 71. vi+47 pages+ 3 foldout maps. 13.5 MB.

Caves and Other Volcanic Landforms of Central Oregon, edited by Lynne Sims and Ellen Benedict, 1982. Guidebook of the geolog and biology field trip, National Speleological Society Convention, Bend, Oregon, June 27–July 3, 1982. 47 pages. 17.1 MB.

Selected Caves and Lava-Tube Systems in and near Lava Beds National Monument, California, by Aaron Waters, Julie Donnelly-Nolan, and Bruce Rogers, 1990. U.S. Geological Survey Bulletin 1673. x+102 pages+20 large maps. Book: 58.8 MB. Maps: 2.7 MB/

"Geology of Some Lava Tubes, Shasta County," by James Evans, in Mineral Information Service vol. 16, no. 3, March 1963. (California Division of Mines and Geology). pages 1–7. Also includes "Hat Creek Lava Tubes as Fallout Shelters," by Tom Gaines, pages 8–10. (Entire 12-page issue.) 2.8 MB.

Geological Field Trip Guide: Mount St. Helens Lava Tubes, Washington, by Jack Hyde and Ronald Greeley, 1973. For the Cordilleran Section meeting of the Geological Society of America, Portland, Oregon, March 1973. Offprint from Geologic Fields Trips in Northern Oregon and Southern Washington, Oregon Department of Geology and Mineral Industries Bulletin 77, pages 183–206. 5.5 MB

Lava Tubes of the Cave Basalt, Mount St. Helens, Washington, by Ronald Greeley and Jack Hyde, 1971. NASA Technical Memorandum X-62,022. 33 pages plus 26 unnumbered pages of figures. 7.1 MB.
Pisgah Lava Caves (Southern California, USA) by Russell Harter
Veracruz, Mexico Vulcanospeleology: Projects; Slide show
The Jilotepec Project (Veracruz, Mexico): Paper; Blog
What is a Lava Tube? by William R. Halliday (PDF file, 3.2 megabytes) from Proceedings of the X, XI, and XII International Symposia on Vulcanospeleology, AMCS Austin, 2008
Umm Jirsan: Arabia's Longest Lava-tube System by John Pint - Paper (PDF file, 915 kb); Trip Report & Photos
Differentiating Lava Tube Skylights from Pit Craters; A Study of the Cave-like Structures on Arsia Mons, Mars by Halliday, W.R. and J.J. Wynne. 2008
The Lava Caves of Khaybar, Saudi Arabia (PDF file, 2.1 megabytes) by John J. Pint
Pa'auhau Civil Defense Cave, Hawaii by Stephan Kempe et al.

Hibashi Cave, Saudi Arabia : Spelelogical Report: Ghar Al Hibashi, Harrat Nawasif/Al Buqum, Kingdom of Saudi Arabia by John J. Pint et al / Photos and Story

Lava Tubes of Iceland by Harry Marinakis

Leviathan Cave, Kenya
Volcanic Caves of the Azores (GESPEA)
Lava Tubes of Lanzarote, Canary Islands (Shepton Mallet Caving Club)
Iceland Expeditions (Shepton Mallet Caving Club)
La Madriguera de los Lobos (The Wolves' Den)

Caves of the Lost City, Saudi Arabia

Caves of Mt. St. Helens National Volcanic Monument by Harry Marinakis

The Lava Tubes of Harrat Kishb, Saudi Arabia by John Pint: Report; Story

Kazumura Cave, Hawaii
Zurdo Cave: vampire bats, tailless whip scorpions, leaf-cutting ants, snakes and an amazing obsidian ceiling
Three Curious Volcanic Caves in Jalisco, Mexico

Lava Caves of Tepoztlan, Mexico: Iglesia Cave and La Cueva Pelona
MAPS OF LAVA CAVES
VULCANOSPELEOLOGICAL TERMS

Vulcon Guidebook Glossary by Ken Grimes

An Illustrated Glossary Of Lava Tube Features
Western Speleological Survey bulletin #87. By Charles V. Larson, 56pp, 1993
PSEUDOKARST
If it's not a limestone cave and it's not a lava cave...try looking here!
UIS Commission for Pseudokarst: General Description; Web Page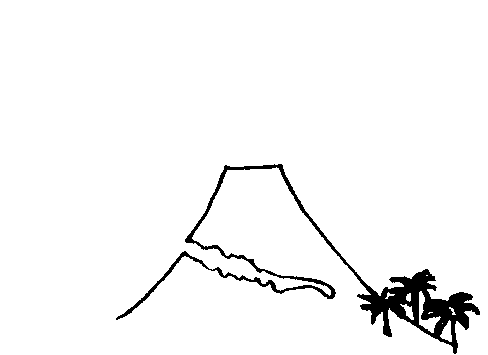 INTERNATIONAL UNION OF SPELEOLOGY
UNION INTERNATIONALE DE SPÉLÉOLOGIE